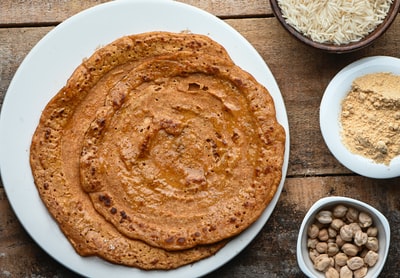 Note: use any combination of tur dhal, chana dal or even split yellow peas
Wash and rinse the dhals and rice thoroughly.
When the rinse water runs clear, soak the dhals and rice together in a bowl with fresh water for a couple of hours. Drain the dhal-rice mixture and grind into a somewhat coarse mixture in a blender using water when necessary.
Empty the batter into a bowl, add some salt and let it rest for at least an hour. You could also let it ferment overnight if you like a sourdough tang in your pancakes.
To make the pancakes, heat a non-stick or well-seasoned cast iron skillet on a moderate stove. If a few drops of water bounce off the pan, the pan is hot enough and you can proceed to make the pancakes.
Drop a ladleful of the prepared batter in the center of the pan and with the back of the ladle, swirl the batter from inside to outside to form a thin round pancake.
Wait till the top looks dry, wait another minute if you like them crisp and flip to cook the other side. Remove onto a plate and eat immediately with a nice coriander chutney.
(Continue preparing pancakes in the same way until you run out of batter and/or chutney. Thebatter will also keep in the fridge for almost a week and you can prepare the pancakes when the mood strikes you.)
Variation: You can add finely chopped onions, jalapenos, spinach, ginger, a few cumin seeds or anything you fancy, to the batter before making the pancakes. You will however not be able to make neat circular pancakes. Instead, you will end up with (tasty) irregular shaped ones.
Related recipes