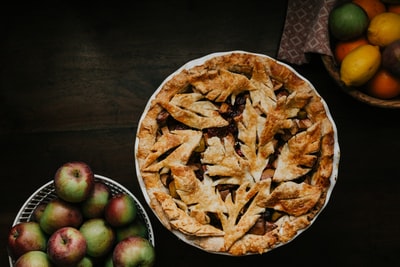 1. Preheat the oven to 180ºC (180C/Gas 4). Melt a third of the butter in a large frying pan and cook the leeks for 6 to 8 minutes until softened, stirring occasionally. Add the cider, bring to the boil and boil fiercely, uncovered, until reduced by about two thirds. Add the cream, bring back to the boil and boil fiercely for 3-5 minutes until the sauce has reached the consistency of thick cream. Remove from the heat and stir in the mustard, eggs and cheese.
2. Meanwhile, cook the potatoes (no need to peel) in boiling water for 3 to 4 minutes until tender. Be sure that they are cooked as the acidity from the cider will prevent them cooking further when added to the sauce. Drain and mix gently with the leek mixture. Season.
3. Melt the remaining butter. Use a little to brush the base of a (12x9-inch) 30 x 22cm baking dish. Place a sheet of filo pastry on top and brush with a little more butter. Repeat with 4 more sheets of pastry to cover the base and sides of the dish, overlapping the edges. Spread the filling inside, then layer another 5 sheets of pastry, in the same way as before, over the top. Fold over any overlapping pastry. Brush two more sheets with the remaining butter, gently scrunch, and place on top of the pie. Bake for 30-40 minutes until golden.
[Per serving: 534 calories, Fiber 39g, Carbohydrate 23g, Fat 44g, Protein 11g, no added sugar, Salt 0.97g]
VARIATION: With just a few lowfat choices we can reduce this recipe to 260 cals and 5g fat per serving. Omit the butter. Softened leeks in broth and/or vegetable oil spray. Use whole or 2-percent milk. Substitute one third cup liquid egg product. Use lowfat Cheddar cheese, Brush phyllo / filo with skim milk or a vegetable broth instead of butter and crimp.
PANTRY: Little Hereford cheese is made in a dairy just outside the city. It tastes somewhere between Cheddar and Caerphilly. Cheddar is a good substitute. Caerphilly is a Welsh cheddar cheese with a soft, crumbly texture made from cow's milk and aged about 5 months.
Related recipes