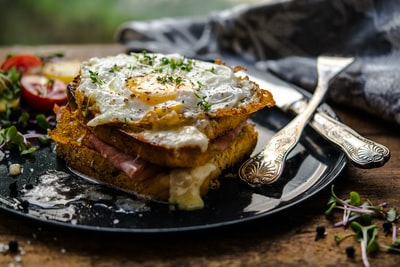 The Lemon-Basil Vinaigrette: Prepare the vinaigrette: In a small bowl, whisk together all the ingredients until smooth. Set aside.
Prepare the salad: In a small skillet, heat the oil and butter overlow heat. Add the garlic and saute 10 seconds. Add the ham and saute foranother 10 seconds. Off the heat, add the grated cheese.
Place the mixed greens in a salad bowl or plate and top with the hammixture. Garnish with the nasturtium flowers and drizzle the vinaigretteon top. Top with croutons. Serve this with a good crusty load of Frenchbread and a bottle of dry white French wine.
Related recipes